Asli, the founder is a former travel executive. She comes from a family of tutors her great grandfather was a physics teacher and her grandfather was a Professor in Economics, her father still teaches at the naval accademy and she herself was a part time teacher at a University in Istanbul, she says "teaching is in my genes." She spent some time in U.S.A and Belgium when she was groving up owing to her fathers diplomatic career. After a long career in Istanbul, running a travel company and a hotel she changed her life to become a chef in Bodrum. She has collected many recipes and stories while travelling all over Turkey and abroad and inherited many from her family members and now she used to run a well known restaurant in Bodrum and is willing to share what she has saved all her life and is trying to promote Turkish Cuisine to the world as much as she can. She is the co-founder of SlowFood Bodrum convivium and is trying to save ancient recipes in the area with her fellow members.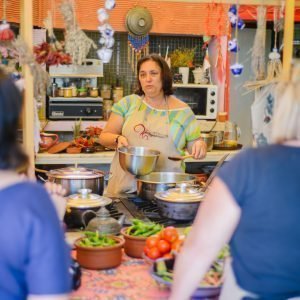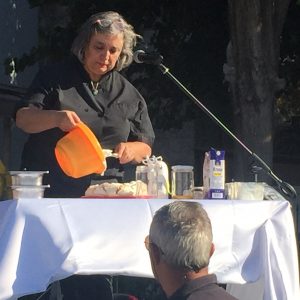 Haluk, is an Industrial Designer, after a long career in Istanbul from banking to construction, he decided to follow his destiny and ever since he is painting. He exhibited his work at many exhibitions in Turkey, Australia and U.S.A The house is his palette and there is artwork all over the place, he loves to teach and share his knowledge about painting, history of art and our country.
We have been on almost all of the cruise ship shore excursions for many years, when they visited the Bodrum harbour. We have been featured on many magazines, TV shows and articles as " the not to miss " when coming to Bodrum and most of our guests have open heartedly told us that our cooking classes were the best experience on their holiday. Most of them commented on our Trip Advisor page  https://www.tripadvisor.com.tr/Attraction_Review-g298658-d2718172-Reviews-Cooking_Classes_Bodrum_Day_Class-Bodrum_City_Bodrum_Mugla_Province_Turkish_Aegean.html
Asli also did a cookery and life style program on a local TV channel every week for two years. Her program "Asli Mutlu ile Yahşi Lezzetler "  focused on local recipes, fresh ingredients and is trying to support local farmers by creating awareness. She is now very excited with a new challange to do her classes live online in venture with TheChefandtheDish.com.