Oya's Cuisine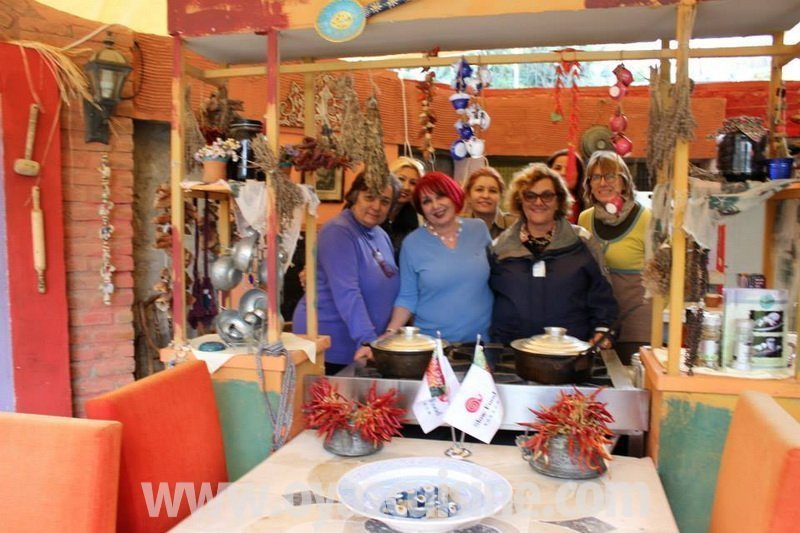 Bodrum with its enigmatic elegance is considered a summer destination, although more than a million tourists flock to its beaches, boutique hotels and clubs each summer, Bodrum never loses its cool. One  can still find little corners of serenity, in the town and especially in its outlying coastal villages.
Last weekend I and a group of food blogger friends from istanbul,  were invited over to be introduced to the unique tastes of Bodrum by "Cooking Classes Bodrum".  A cooking class that would teach us how to cook Bodrum greens.  We had the pleasure of spending a long weekend at Dörttepe / Karova where Aslıhan Mutlu and Haluk Mutlu own a beautiful traditional place to house their guests who come to visit Bodrum and take part in their culinary classes.
EDGEMEDIANETWORK
Bodrum's Eternal Blue
WHERE TO EAT:
Erenler Sofrasi: Turkish cuisine in the southwest is closer in style to Mediterranean cuisine, with a liberal use of olive oil and herbs. A cooking class at the restaurant in this complex of hand-crafted stone villas includes lunch - with a side order of panoramic seaside views.
Aslihan Mutlu is a highly-regarded Turkish chef who shares her culinary wisdom with the many visitors to this unique development of artists' studios, workshops, and stone houses built atop a hill above Ortakent, twenty minutes west of Bodrum. With sweeping views of the Aegean, as well as the island of Kos and Gökova Bay, the houses are patterned after ancient Roman models when Bodrum was known as Halicarnassus.
An afternoon with Mutlu commences at a local market before heading to the kitchen. Guests sit at a table in front of mounds of fresh produce to learn some of the traditions of Turkish cuisine that Mutlu acquired from her grandmother who lived in a Greco-Bulgarian region of Thrace. Regional wines are poured and by the time baklava and mastica ice cream is served on a terrace overlooking the water, you might be thinking about opening your own restaurant along the Aegean.
https://www.edgemedianetwork.com/index.php?id=138876
Travel
Bodrum: The Brigadoon of Turkey
https://www.edgemedianetwork.com/index.php?ch=travel&sc&sc2=news&sc3&id=138427
Brenda Dodd
Hi Asli... I was writing to THANK YOU for making our trip to Turkey even more enjoyable. We absolutely loved staying at Yarbasan Houses, the dinner at your restaurant, the Cooking Class with you and your staff, the Wine Tour to Selia Farm with Haluk. Turkey is absolutely beautiful and we enjoyed all the sites we visited but our time with you is one of the trip highlights. Tell Haluk we definitely agree with him that although Pamukkale is unique and worth seeing, we really enjoyed Aphrodisias more. The trip to Selia Farm was very nice – great wine, excellent goat cheese, strawberries and mulberries. Enjoyed meeting Selva and her son, Haluk and found out that her daughter lives in the same Istanbul apartment complex as our son. Small World!
Debbie Evans (South Africa)
Hello Asli, I hope this finds you well.
A huge apology for only mailing you now, but I hit the ground running when I arrived home and life has not stopped since.
I am trying to catch up with 2 weeks work that I missed not being here, so it has been hectic.
I would like to thank you so very much for the wonderful time I, and my group had with you in Brodrum. Everything was great, from the villa, to your food ,to the cooking lessons, to the excursions, and for that I sincerely thank you and Haluk.
I will be putting a review onto Tripadvisor soon.
I only got to cook my first Turkish lunch yesterday for my family and friends and they all loved it!!!
Stay in touch. Kind Regards
enjoyable experience
We stayed at Yarbasan resort and so sampled breakfast, lunch and dinner. I can recommend all the meals as being first class. The Chef, Asli, is a very talented person and combines being a great host with the best authentic Turkish food. The views and the food combine to make this a very special place. We also took a cooking class with Asli and this included a visit to a Turkish market to buy ingredients. The dishes we made were fresh, simple and elegant and Asli kept us entertained with stories from her life. We greatly enjoyed consuming the dishes for lunch after the cooking classes. It was a very enjoyable experience
Thank you for a great memory
As I bid farewell to Turkey after only one short week, I would be remiss if I didn't share my fun and educational experience at Erenler Sofrasi with those of you who might be looking for a break from beach and bazaar hopping in Bodrum. Asli Mutlu, chef and owner, facilitated a cooking lesson extraordinaire in which we learned to make boreks, dolmas, beans and stuffed zucchini among other delicious items. While cooking, in addition to the details of the recipes, our "class" discussed cultural differences and shared personal stories. As the day culminated, we enjoyed the fruit of our labour amidst a splendid view and, I must say, the food was delicious. Finally, we were escorted back to the city. Thank you for a great memory.
A truly memorable experience!
During a trip to Turkey, I had the opportunity to take a cooking class with Asli in Erenler-Sofrasi, Bodrum. As a chef, I am constantly trying to evolve, and Asli's greenmarket approach to Turkish cooking was refreshing. The kitchen is part of the restaurant she runs, and is set up really well for teaching. We made around 6 different dishes during the course of the class and feasted later with local wine. A truly memorable experience!
an excellent fit
I recently did a full-day cooking class with Asli at the Erenler Sofrasi restaurant. I had been to Bodrum a few times before and was looking for something different to do. Since I love to cook, this was an excellent fit! I was picked up at my hotel and our first stop was the Bodrum market behind the otogar to buy all our required ingredients. Then a quick drive to Ortakent and the restaurant. Ably assisted by Metin we spent the day preparing a large number of dishes. Asli was very informative on what we were doing and why and the time passed quickly. Kofte kadayif, sigara borek, a delicious zucchini, mint, yoghurt salad... and the list goes on. Finally, we sat down to enjoy everything we made along with a glass of Turkish rosé. I found it an excellent way to spend my day and highly recommend it as a way to discover another aspect of Turkish Mediterranean culture...
Kristy LaMarche, Guest Services Manager, msy Wind Spirit
Hello,
I would like to thank you again for such a wonderful culinary experience.
The class, service and tour were excellent, and we received many wonderful comments from our guests onboard the Wind Spirit.
Next week the charter will not be doing any of our tours as they have their own scheduled.
Thank you again! Warm Regards
Greypalmer- June 2015
Do yourself a favor, take a cooking class with Aslihan while you visit Bodrum. Here's how it works. Asli picks you up at your hotel and takes you to the local farmer's market to shop for fresh ingredients. The market is in itself an impressive local attraction you might miss if you're doing typical touristy things in Bodrum. Sample the freshest produce, cheeses, and olives offered by local growers and producers. Most vendors are happy to give you a taste of their wares. Some things must be seen to be believed, like the huge rounds of phyllo dough for sale, and the vast array of olives. Keep an eye out for the tea vendor running around delivering hot glasses of Turkish tea to farmers and sellers.
With shopping done, Asli takes you to her shaded garden kitchen where the lessons take place. Instruction is informal, punctuated by conversation, noshing and Turkish coffee. This is true cultural exchange in so far as the topic of conversation often ranges far beyond food and into the realms of culture, language, politics and religion. It's a truly relaxed and civilized experience. The language of good food is universal, but it does help that Asli's English is impeccable. She's a great mediator for Anglophones trying to understand a little bit more about Turkish culture through its cuisine. Asli's staff is also amazing. At one point, Asli stepped back to allow her Georgian assistant to teach us her signature Georgian dish, an eggplant roulade stuffed with walnut paste. By the end of the lesson you will have created an impressive array of mezzes, small tapas-like gems. During your time here you may stuff zucchini flowers with cheese and herbs, roll phyllo dough, shell fava beans, and dress sea beans with garlic and lemon. You'll feel proud of your achievement when you see the mezzes you made brought to the table at lunchtime. The delicious food you make here will become the benchmark against which you judge the food you receive in local restaurants.
While you eat and take sips from your glass of rosé, take a moment to appreciate the setting. Asli's kitchen opens up onto an enclosed yard adorned by her artist husband in colorful painting and relief sculptures that capture the spirit of the Aegean. We enjoyed our experience so much that we booked dinner in the garden for later in the same week. If for some reason you can't find the time to take this cooking class, please do make a reservation for dinner in the lantern-lit garden. It will be the best food you eat in Bodrum.