Every Saturday to Friday, arrival at either Bodrum Cruise Port or at Bodrum Milas Airport.
Day 1 (Saturday):
When you arrive at the Bodrum – Milas airport, which is 10 minutes drive from our home, we will be picking you up and try to make your week a very memorable foodie holiday. Our guest rooms all have private facilities, airconditioning and a private balcony where you can relax take a sip of wine and watch the sun going down through the lagoon into the Aegean Sea. We will be serving your first Turkish dinner, introducing you to the regional cuisine of South Western Turkey where the essentials are olive oil, herbs, vegetables and seafood. (D)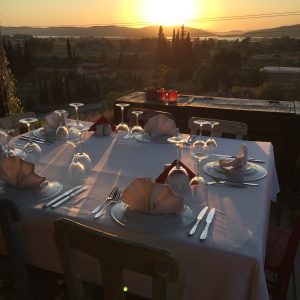 Day 2 (Sunday):
Turkish breakfasts are famous, with the variety that is put on the table. We will try to impress you on your first morning with eggs, fresh milk, all kinds of jams, cheeses, bagels etc etc at breakfast. Bodrum is the capital of the famous "Blue Cruises" or "Blue Voyage". Gulet's are traditional wooden yachts that would cruise to small bays of the area where guests will enjoy wonderful blue waters of the mediterranean. These Gulet's are also very famous with their chefs and the Blue Voyage Cuisine is unique. We will be taking you today on a Gulet yacht, to cruise along the bays of Bodrum for a daily blue cruise, where the captain will be cooking a colorful menu for our guests, and we will be enjoying a great day on the water.

In the evening we will be visiting a local vineyard that has won the best "Shiraz" of the year with their 2015 wines in Turkey. There we will have a fancy wine and food pairing dinner. (B,L,D)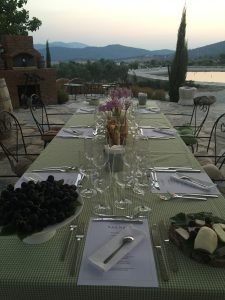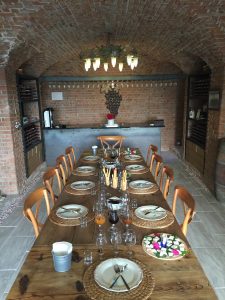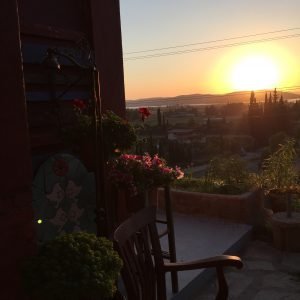 Day 3 (Monday):
We will be off to visit a local market at a small fishermens wharf after our Turkish Breakfast, where local small farmers bring their produce and we will choose what to buy there for our cookery class. With all the ingredients bought from the market we will be cooking five recipes of meze which are starters, a borek and a main course, at our Turkish Home Cooking Class.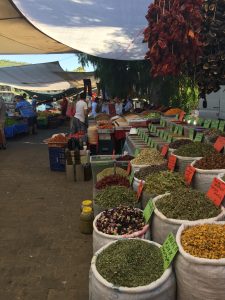 At a late lunch we will be tasting all of what we have cooked . After our late lunch we will drive to a small village where local ladies will be rolling dough for our dessert , show us how to roll dough with a rolling pin and how to make flat bread and milk their cows for us to make our yoghurt in the evening.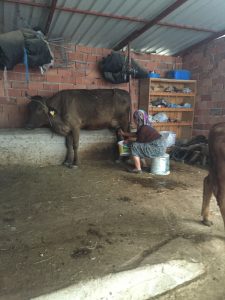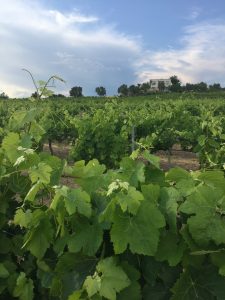 On our way back we will be visiting and tasting wines at another local vineyard, and taste snacks and finger food. (B,L,D)
Day 4 (Tuesday):
Although there are farmers markets almost everyday, in our vicinity, Tuesday is "The Market" day. The most vibrant market of the area is in Milas, ancient Mylasa is where we will go today. After spending time shopping at the farmers are, visiting the various cheese stalls, fishermen and butchers, we will be tasting some street food for lunch. It would be a shame if we do not visit the ancient town of Mylasa, its recently renovated archeological museum and the castle of Beçin on our way back home.
At our evening class we will be cooking Turkish Rice Pilaf with with different variations of vegetables, lamb and fish you will realize that this tradition is very much like the Spanish Paella. At dinner you will be tasting more of our local wines of Bodrum. (B,L,D)
Day 5 (Wednesday):
On our morning cooking session we will be making "Dolma" which is stuffed vegetables either with rice or meat, we will be making all variations and tasting them at lunch.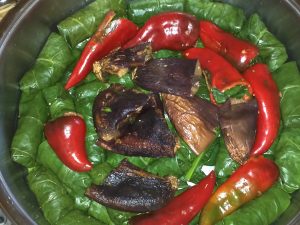 In the late afternoon we will be showing you around the Bodrum Peninsula, visiting some of our museums and at the end of the day we will be going to Gumusluk, which is a charming little town on the water lined up with many fishermens restaurants, and there always is a live music event so depanding on your day of travel we will either be visiting a Jazz Bar or attending a Classical Music concert at the Gumusluk Festival. (B,L,D)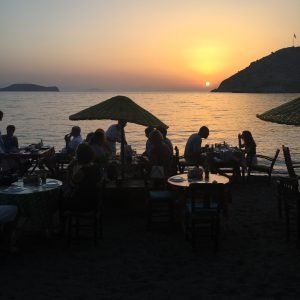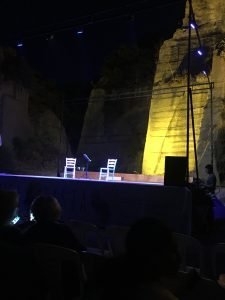 Day 6 (Thursday):
After our relaxing breakfast, we will be visiting a local goat farm where we will meet the farmers, listen to their story taste their cheese and wine.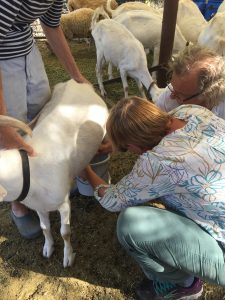 On our way back we will visit a small lady farmer and pick up some salad, herbs and vegetables from her garden for our salad lunch today. Topic of the Turkish Cooking Class today is Turkish Desserts, baklava and milk deserts. For dinner we will leave you on your own, you can either go out and dine at many options in Bodrum or around. Or stay at home and do something for yourself at our kitchen totaly up to you. (B,L)
Day 7 (Friday):
Time to say good bye, you will have free time before trip back. We will be taking you to the airport an say our goodbyes and will hope that you will never forget your foodie trip to " The Ancient Karia ".