This is an advanced class where you should have made dough and rolled it before, it is organised upon request anytime during weekdays, send us an e-mail to asli@cookingclassesbodrum.com
Baklava is the most famous Turkish Dessert ever, it is layer of special dough with either walnuts of pistachios and syrup.
Baklava is a very old pastry. Many ethnic groups with ancestry going back to the Middle East claim the origin of this luscious pastry. The historical documentation is not solid, yet there is strong evidence that its origin comes from Central Asian Turkic tribes.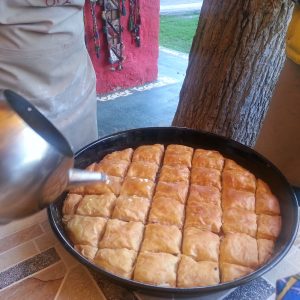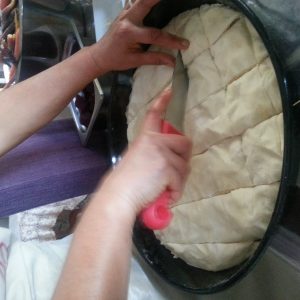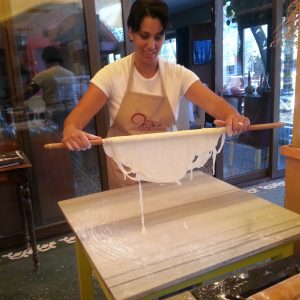 It is also known that during the Ottoman Empire, in the imperial kitchens of Topkapi Palace, the current form was developed. And later, in the late 19th century small pastry shops were opened in Istanbul and the provincial capitals. There was a special reason for baklava being a favorite among the wealthy families and the Ottoman Sultans with their large harems. Pistachio and honey were the two prime elements and when consumed regularly they were believed to be aphrodisiacs. Cloves of two spices, cinnamon for females and cardamom for males, were added to increase the aphrodisiac effect of the pastry. The nuts used in Turkey for baklava show variations depending on the geographical locations. In Southeast Anatolia the pastry is made with pistachio nuts, in the Black Sea region with hazel nuts, in central Anatolia with walnuts and on the Aegean shores with almonds.
We start the day with learning to make the baklava dough at a hands on class. This activity needs some cooking skills, you should have made hand made pasta or dough before you join this class. The course starts at 10 am on Tuesdays, and lasts until noon.